Current Graduate Students
Arifa Ahsan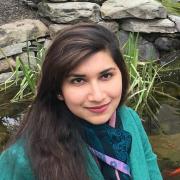 Arifa graduated from Brandeis University in 2015 with a B.S. in Biochemistry. Her undergraduate thesis at the Hedstrom Lab focused on protein degradation via small molecule hydrophobic tagging, and she designed compounds to target Bcr-Abl protein, the pathophysiological cause of chronic myelogenous leukemia. Following college, she was involved in a project on chromothripsis with David Pellman's group at Dana-Farber Cancer Institute. (Chromothripsis is a newly discovered mutational phenomenon in certain cancer cells, characterized by extensive genomic rearrangements.) For her graduate work at Georgetown, she has decided to pursue her long-term interests in developmental neurobiology and regenerative processes, and will be co-mentored by Dr. Elena Silva and Dr. Jeffrey Huang.
Outside the lab, she enjoys theatre, books, art and creative writing.
---
Sylvia Arnold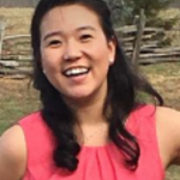 Sylvia graduated with a B.S. in Biology from the University of Maryland, Baltimore County in 2017 where she worked in Dr. Erin Green's lab for two years. During her time there, she worked on characterizing Set5, a yeast histone methyltransferase. After graduating, she joined the Rolfes lab at Georgetown University and is currently working on understanding the yeast transcription factor Grf10 and its role in virulence of Candida albicans. In her spare time, she enjoys spending time with her friends and family, baking, and trying new foods!
---
Zachary Batz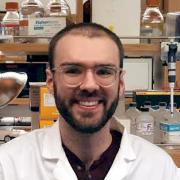 Zach earned a BS in Biology from the University of Pittsburgh in 2012. As an undergraduate, he worked with Dr. Sam Donovan developing educational resources to facilitate open-ended exploration of phylogeny malarial parasites in great apes. Following his interest in science outreach, Zach then moved to Dr. Michelle Smith's lab at the University of Maine where he earned an MS in Biology Education in 2014. His master's thesis demonstrated a novel method for monitoring student engagement in large undergraduate science courses. In 2014, Zach returned to traditional biology and joined Dr. Peter Armbruster's lab to study the evolution and molecular mechanisms of overwintering mechanisms in the Asian tiger mosquito.
Outside the lab, Zach enjoys cooking, racquetball, and going to concerts.
---
Allison Brackley

Allison Brackley is a Ph.D. student working in Dr. Martha Weiss' lab, and she is also co-advised by John Lill at George Washington University. She earned her B.S. in Biology from the University of Illinois at Chicago, where she completed several semesters of research studying the architecture of pollination networks as well as the interaction between an invasive shrub and its detritivores. During the summer of 2014, she participated in the Research Experience for Undergraduates program at the Chicago Botanic Garden, where she investigated the impact of bio-control weevils on an endangered plant native to the Wisconsin dunes. Her primary research interests are in understanding species interactions and community-level dynamics.
---
Paige Brooks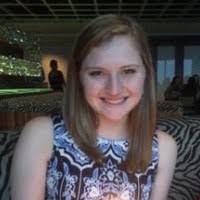 Paige earned her B.A. in Cellular Neuroscience with a minor in Biology from Colgate University in 2016. While there, she worked with Dr. Jason Meyers on a high honors thesis utilizing the zebrafish lateral line to examine the roles of Wnt and FGF signaling in sensory support cell development and regeneration. She was selected to present this research at the 2016 GSA Allied Genetics Conference: Spotlight on Undergraduate Research. Paige is excited to continue her research on the developing nervous system here at Georgetown.
Outside the lab, Paige enjoys reading, ballet, exploring DC and trying new foods.
---
Sean Carey
Sean attended The College of the Holy Cross as an undergraduate where he was on the track and field team and earned a B.A. in Biology, graduating in 2015. After graduation, he worked as a research technician under Dr. Maryrose Sullivan at the Veterans Affairs Boston Healthcare System, West Roxbury Hospital. The lab's field of study was urology research with a focus on autonomic neurotransmission and smooth muscle physiology. During his time there, the lab investigated the role of caveolae and myosin-Va in mediating neurotransmission in the bladder. Along with this, the group also investigated Parkinson's disease and it contributes to bladder dysfunction. While at Georgetown Sean hopes to further his understanding of neurobiology and developmental biology. Sean has joined the lab of Kathy McGuire-Zeiss.
---
Melissa Collier

Melissa earned her B.S. in biochemistry and molecular biology at Florida Southern College, in Lakeland Florida. While there she completed her senior honors thesis on sharpnose shark diet analysis, and was a National Oceanic and Atmospheric Administration (NOAA) Holling's Scholar where she studied the stranding patterns of sea turtles on the Atlantic Coast. Melissa worked in environmental education for a year before getting her masters in marine mammal science at the University of Miami and completing an internship working with bottlenose dolphin photo-identification at the NOAA Miami Lab. Following her master's graduation, she worked as a Marine Endangered Species Observer until she joined the Bansal Lab in 2018 to study how disease spreads in marine mammal and other animal social systems. You can usually find her outdoors, petting dogs, or eating breakfast for every meal.
---
Taylor Cook

Taylor joined the Biology Ph.D. program at Georgetown in 2016 and is a member of Janet Mann's lab. Taylor plans to study the development and ecological consequences of personality in wild bottlenose dolphins. Before coming to Georgetown, Taylor earned a B.S. in Biology from UCLA where she worked in the Blumstein lab studying everything from marmot behavior to sea anemone personality to roadkill ecology. She then worked for the California Department of Fish and Wildlife as a scientific aid collecting data on recreational fisheries. Taylor was also a research assistant for the Ocean Conservation Society studying cetaceans in Santa Monica Bay before moving to Georgetown.
---
Dillon Damuth

Dillon joined the Ph.D. program in the Department of Biology in 2013, studying early neural development in Elena Silva's lab group. He received his BA in Biology in 2013 from Elmira College (NY), where his research involved quantification and identification of controlled substances in solution via GC-MS, with the eventual goal of studying thermal degradation rates of these substances in synthetic urine. (Unfortunately, this goal was not reached.)
Outside of time spent in the lab or doing coursework, Dillon cares for his several geckos and enjoys spending time outside and traveling.
---
Stephanie Davis

Stephanie Davis is a combined MD/Ph.D. candidate, currently earning a Ph.D. from the Integrated Program in Neuroscience (IPN). Her thesis research is under the co-mentorship of Jeffrey Huang and Anton Wellstein, and it is focused on multiple sclerosis (MS) and the involvement of a novel protein called IL4I1. In line with her clinical interests, Stephanie is the first person in the Huang lab to study MS in human samples.
Stephanie earned her B.A. in Behavioral Neuroscience from Barnard College, with a minor in French. Growing up between homes in Boston, Mass and Athens, Greece, Stephanie loves traveling and learning new languages. Outside of the lab, she may be found biking, singing at open mics, watching Seinfeld, and is getting increasingly involved in advocacy work focused on medical and social justice issues.
---
Marc Fink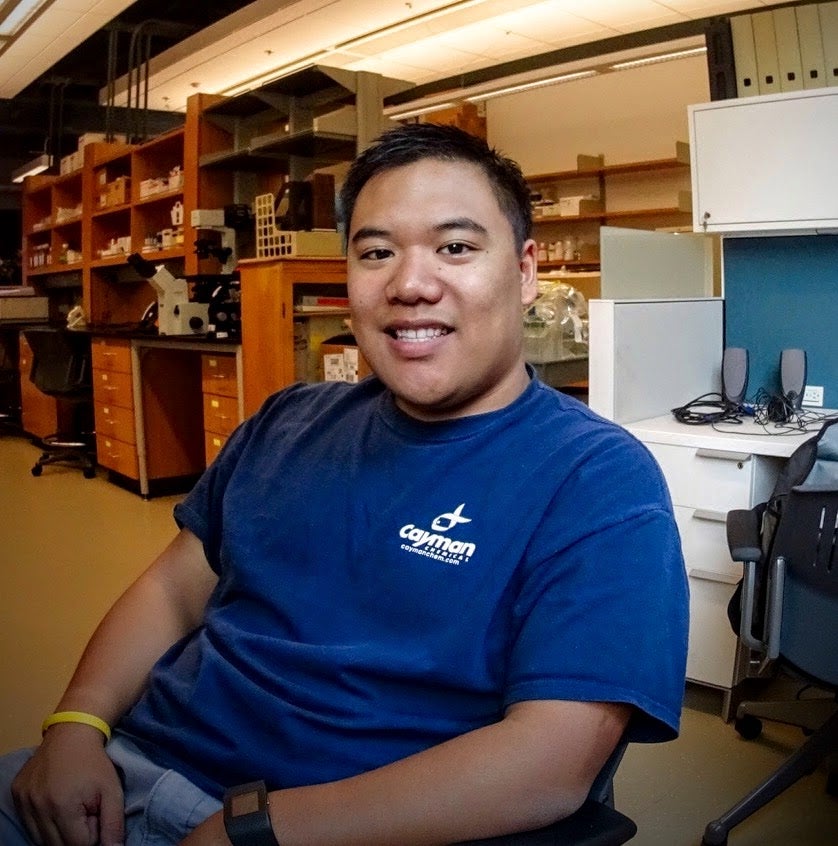 Marc is a Ph.D. student in the Department of Biology, working in the Singer lab. He received a B.S. from Loyola University – Maryland and an M.S. from Towson University. During his time at Loyola, he investigated both bacterial biofilm architecture and antibody production with Andrew Schoeffield and David Rivers. At Towson, his thesis work with Dr. Michelle Snyder studied innate immunity pattern recognition and associated signaling pathways. Currently, Marc is interested in immune cell regulation and interactions within the gastrointestinal tract.
Outside of the lab, Marc enjoys watching movies, following the Boston Red Sox, and dreaming of playing linebacker for the New England Patriots.
---
Jingwen Hu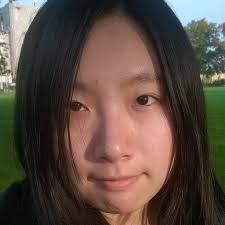 Jingwen Hu is a Ph.D. student in Dr. Jeffery Huang's lab, which is focusing on Multiple Sclerosis (MS). Jingwen has been interested in neuronal degenerative diseases since she was an undergraduate student and focused on studying Alzheimer's disease. For her Masters Thesis, she conducted research on Parkinson's disease. After that, she joined New York Stem Cell Foundation to work on the stem cell research in MS. In the Huang laboratory, she is focusing on the mechanism of spontaneous remyelination happening MS.
In her spare time, Jingwen enjoys traveling, painting, sports, and music.
---
Alyssa King
Alyssa completed her B.S. in biology in 2015 from Bradley University in Peoria, IL. During her time as an undergraduate, she worked with Melinda Faulkner investigating oxidative stress in the soil bacterium Bacillus subtilis. Her interests include microbial pathogenesis, specifically microbe-host interactions, pathogenic virulence, and host response. She began working towards her Ph.D. at Georgetown in 2015, joining the lab group of Shaun Brinsmade.
Alyssa's out-of-lab passions include hanging out with dogs (all dogs, seriously any dog), exploring new places, reading good books, and drinking delicious coffee and wine (though not necessarily at the same time).
---
Shican (Claire) Li

Shican (Claire) received her BS degree from University of New Haven and an MS from Brandeis University. She is now working on her Ph.D. degree in the Elmendorf lab studying the attachment mechanism of the intestinal parasite Giardia lamblia. She is particularly interested in investigating how Giardia responds to environmental cues to find its attaching site during infection, and especially, how Giardia interacts with intestinal mucus. She plans to explore these questions using biological and physical approaches.
Besides science, Claire enjoys singing Beijing Opera, writing poetry, and playing Chinese zither occasionally.
---
Jewel Lipps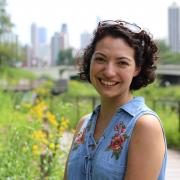 Jewel began her Ph.D. studies at Georgetown in fall 2017, after working for two years at the U.S. Environmental Protection Agency headquarters in DC. Originally from Texas, she went to Southern Methodist University in Dallas, TX for her undergraduate degree. She has field ecology and environmental chemistry experience in several distinct ecosystems, including Appalachian streams, peat bogs, and bottomland hardwood forests. As a student in Gina Wimp's lab, she investigates how plant-herbivore interactions affect the ecosystem services of Atlantic coast salt marshes. She is passionate about discovering science-based solutions to society's environmental challenges.
---
Molly McEntee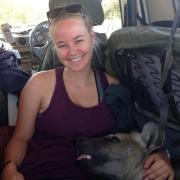 Molly received a bachelor's degree in Biology from Williams College in 2014. As an undergraduate, she spent a summer at the Duke Marine Lab studying the ecology of deep-sea cold-seep ecosystems, and completed an honors thesis on the pollination network of bunchberry dogwood. After graduation, she moved to Kenya as a research assistant for the Mara Hyena Project, where she studied the behavioral ecology of spotted hyenas under Kay Holekamp. Molly then spent a field season in Maine studying the conservation ecology of endangered right whales, before returning to Kenya to study the behavioral ecology of anubis baboons with the Comparative Analysis of Baboon Sociality project under Joan Silk. Molly joined Janet Mann's lab as a Ph.D. student in 2017. She is interested in female reproductive behavior in wild bottlenose dolphins.
---
Madison Miketa

Madison graduated from Brown University in 2010 with a Bachelor of Science degree in Biology, with a focus on Animal Behavior. Her Honors thesis examined the biogeographical patterns exhibited by all shark species worldwide under the guidance of Dov Sax.
Her previous research experiences include studying navigation in sea turtles (with Kenneth Lohmann and Catherine Lohmann), ontogenetic changes in sharks (with Jamie Seymour), movement patterns in sharks (with Jonathan Werry), development in Zebra fish (with Ruth Colwill), learning and problem solving in sea lions (with Colleen Reichmuth), behavioral responses to seismic surveys in humpback whales (with Mike Noad and Rebecca Dunlop), numerical cognition in primates (with Elizabeth Brannon), and social behavior in lemurs (with Christine Drea). Madison joined Janet Mann's lab as a Ph.D. student in the Fall of 2013. She is excited to study social behavior and cognition in the dolphins of Shark Bay.
Outside the lab, Madison enjoys playing field hockey, scuba diving, and spoiling her four dogs.
---
Vivianne Morrison

Vivianne earned her B.A. in Psychology with a concentration in neuroscience at Bard College in 2009, exploring the biological basis of Phantom Limb Syndrome for her Senior Thesis. Upon receipt of her degree, she attended medical school at the University of Lausanne, Switzerland, while remaining active in research in the laboratory of Isabelle Décosterd at the University of Lausanne (studying the effect of peripheral nerve damage on the central nervous system), which drove her to leave medical school and pursue her passion for neuroscience. She is a doctoral student in Georgetown's Interdisciplinary Program in Neuroscience and a 2014 Awardee of the National Science Foundation Graduate Research Fellowship Program. She plans to study neuron-oligodendrocyte communication and activity-dependent myelination in the laboratory of Jeffrey Huang.
---
Victoria Morrissette

Victoria earned a B.S. in Biochemistry with a minor in Chemistry from Virginia Tech in 2015. As an undergraduate, she worked with Joe Merola synthesizing and evaluating the effect of organometallic amino acid complexes on antibiotic resistance in both TB and MRSA. Victoria also worked as an undergraduate research assistant for Katharine Knowlton investigating the effect of antibiotics on antibiotic resistance in (dairy) calves. She is very excited to have joined Ronda Rolfes' lab to work on metabolism of inositol pyrophosphates.
In her spare time, Victoria enjoys spending time with her puppy Hugo, hiking, going on adventures, reading, and drinking wine.
---
Zachory Park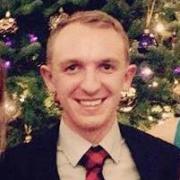 Zac graduated from Elmira College in 2017 with a BS in Biology and Biochemistry. At Elmira, he worked in the lab of Daniel Kjar where he studied competitive interactions between ant species. He has always been fascinated by the concept of regulation and the genetic and biochemical regulation of complex biological processes in particular. He joined Mark Rose's lab group at Georgetown, working on the regulation of meiosis in Saccharomyces cerevisiae.
Outside the lab Zac enjoys reading, trying out local breweries, and exploring D.C.
---
Joan Reger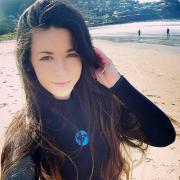 Joan is a Ph.D. student in Shweta Bansal's lab where she works on mathematical modeling of infectious diseases. She earned her B.S. in Biology at Emory University in 2017. While at Emory, she worked in the Wilkinson lab studying yeast prions and also worked with K-12 students in the Atlanta community through the educational outreach program Graduation Generation. Prior to coming to Georgetown, she completed a summer research project on TDP-43 in the Eisenberg lab at UCLA and a public health science internship at the USDA in Washington, D.C.
Outside of the lab, Joan enjoys traveling, yoga, DIY projects, and watching The Office.
---
Tyler Rippel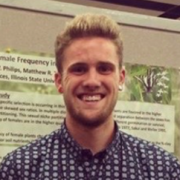 In 2011, Tyler earned his BS in Plant Biology with a minor in Environmental Studies from Illinois State University. While there, he did a senior thesis research project on how soil nutrients can influence female frequency in the gynodioecious prairie plant Lobelia spicata. During undergraduate and the first year of graduate school at Villanova University, he was a part of the Men's Track and Field Team as a 800m runner. At Villanova, Tyler moved towards ecosystem ecology and studied the influence of an invasive grass on microbial communities and nitrogen cycling in temperate forests. He came to Georgetown University to work in Gina Wimp's lab to investigate how plant-invertebrate interactions can cascade through fungal and microbial communities to influence biogeochemical cycling in coastal salt marshe
Outside of school he enjoys being in nature, galavanting through D.C., and slapping some bass.
---
Lauren Rosko

Lauren earned her B.S. in Biology and Psychology from Stony Brook University. As an undergraduate, she studied the role of the mesolimbic dopamine circuit in drug abuse under Dr. Panayotis Thanos at Brookhaven National Laboratory. Lauren earned a Master's degree in Biotechnology at NYU while working as a research technician at Columbia University. She studied the effects of early maternal separation on brain and behavior before starting as a student in Georgetown's Interdisciplinary Program in Neuroscience in 2016. She is working with Dr. Jeffrey Huang studying the effects of creatine on remyelination.
---
Pablo Silva Rodríguez

He came from Guatemala where he obtained a BS in Biology in 2010 and a Licentiate degree in Biology in 2013 at Universidad del Valle de Guatemala. He completed his undergraduate research work with gram-positive pathogens of tomato, specifically Clavibacter michiganensis subsp. michiganensis. In 2012, and obtained an MS in Molecular Medicine at the University of Sheffield, UK. His master's research project, Transcriptional Regulation of the Neuronal Function in the Developing Zebrafish Central Nervous System, was supervised by Vincent Cunliffe at the MRC Centre for Developmental and Biomedical Genetics. In 2013, he did a short internship at University of Chile, under the supervision of Miguel Concha that aimed to study cilio-genesis and cilio-pathies using zebrafish as an animal model. He was awarded a Fulbright-LASPAU scholarship to pursue a Ph.D. in Biology at Georgetown beginning in 2015. His research interests include developmental biology, neurobiology, molecular and cellular mechanisms of disease and adaptation, transcriptional regulation and evolutionary biology. He has joined Elena Silva's lab group.
In addition to research, he also loves traveling, loves playing and listening to music and definitively loves coffee (especially with a good conversation). He also enjoys watching NFL games, discovering new tasty beers (big fan of dark beer) and meeting new people and learning about different cultures.
---
Kathryn Sanchez

Kathryn Sanchez obtained a B.S in Biology from New Mexico State University in 2015. As an NIH BP-ENDURE BRAiN Scholar, she undertook a histological study with Elba Serrano which examined the development of the myelin sheath surrounding the acoustic-vestibular nerve of Xenopus laevis. During a summer internship at the University of Pennsylvania, Kathryn examined mouse hippocampal metabolism in the laboratory of John Wolfe. The Wolfe lab explores the lysosomal storage disease Mucopolysaccharidosis Type VII and was interested in researching ATP synthase in MPS mice. Kathryn established a protocol that assessed the electron transport chain of mouse hippocampal tissue using high-resolution respirometry. She presented this work as a poster entitled Development of High-resolution Respirometry Protocol for Brain Tissue as a Form of Metabolic Analysis for MPS VII Mouse Models at the Society for Neuroscience meeting in 2013. After this, Kathryn explored the pathology of Alzheimer's Disease at New York University in the lab of Jorge Ghiso. This project involved the investigation of a novel antibody probe specific to an amino terminus truncated amyloid peptide. She presented this work as a poster entitled Amyloid beta Truncated Fragments: Relevance for Alzheimer's Disease Pathogenesis at the Society for Neuroscience conference, and received the Leadership Alliance Experimental Biology Fellowship for this work. She has joined Kathy Mcguire-Zeiss' lab group.
---
Kaela S. Singleton
In 2014 Kaela earned her B.S. in neuroscience and classical history and culture from Agnes Scott College (ASC), an all women's liberal arts college. During her undergraduate career, she was awarded numerous fellowships including the Behavioral Research and Innovation in Neuroscience fellowship, the NIH funded Blue-Print Program for Enhancing Neuroscience Diversity Through Undergraduate Research, the Center for Behavioral Neuroscience Fellowship, the Generating Excellence in STEMs Fellowship, and the Summer Science Academy Fellowship.
Through these fellowships, she conducted research in laboratories at Emory University, ASC, Georgia State, Zoo Atlanta, and Vanderbilt University where she explored the molecular mechanisms underlying affective disorders in adolescence, neurobiology of Rett Syndrome and schizophrenia, invertebrate models of drug abuse, zoo welfare in orangutangs, and glial response to insulin resistance in the central nervous system.
Kaela is currently (2017) a third-year doctoral candidate in the Interdisciplinary Program in Neuroscience working on a combined project in Maria Donoghue and Elena Silva's labs in the Department of Biology. Her current research focuses on investigating transcription factor function and regulation in Xenopus laevis (frog) and Mus musculus (mouse) during neurodevelopment.
---
Nicole Wagner
Nicole is currently working in Sarah Johnson's lab where she is studying life in extreme environments that can be used as Mars analogs, in the hopes of advancing the search for extraterrestrial life. Nicole's foray into the world of extremophiles began in Anna-Louise Reysenbach's lab at Portland State University where she spent her days sifting through the genome of hyperthermophilic archaea.
In her free time, Nicole re-watches episodes of Star Trek, obsesses over all things SpaceX, spelunking, and dotes on her toy poodle.
---
Zhirong Wang
Zhirong started his scientific expedition in Yi Rao's lab at Peking University/NIBS in 2012 by studying how the broken-hearted male Drosophila influences naïve males on how they "chase girls". In 2014, he earned a Summer Undergraduate Research Fellowship from The Rockefeller University, and worked in Leslie Vosshall's lab, aiming to establish a behavioral paradigm to study how insects could sense repellents merely by touching. In 2015, he earned his B.A. in biology with honors from the University of Utah mentored by David Gard. Research-wise, he was also trained in Megan Williams's lab by investigating how Kirrel3, an adhesion molecule, contributes to the form and function of hippocampal mossy fiber synapses. At Georgetown Biology, he is carving his broad interest in developmental neurobiology with the great resources and expertise of the community. He has joined Tom Coate's lab to investigate cochlear development.
---
Casey Zipfel

Casey Zipfel is a Ph.D. student in the Biology program with an interest in infectious disease dynamics. Casey graduated from the Pennsylvania State University in 2016 with a BS in Biology and a minor in Health Policy and Administration. At Penn State, Casey worked on SIR modeling of infectious disease dynamics within an ant colony based upon social role. Casey is working in Shweta Bansal's lab.
---