For Applicants
How to Apply:
The Department of Biology will review the applications for students interested in a graduate program leading to the Ph.D. degree. Official application information is provided on Georgetown's Graduate School of Arts and Sciences pages.
Applicants are required to upload to the application system copies of official transcripts from all undergraduate and graduate institutions attended. Visit our How to Apply page for additional details and FAQs.
Application Deadlines
Fall Deadline: December 1st for following fall semester
Spring/Summer Deadline: Accepted throughout year, contingent on available support
The following information must be submitted before the Biology Graduate Committee will review your application:
Application Check List
 Complete form
 Unofficial college transcript(s) will be considered initially; upon acceptance official college transcripts will be required.  
 A one-page essay stating your research interests and career goals. Be sure to identify one or more faculty with whom you might like to work, and explain how your research interests are compatible with the research activities of the faculty that you identify.
The Department of Biology and Georgetown University is a diverse, global community. We encourage you to add an optional statement of about 500 words on obstacles or challenges you have overcome or experiences that shaped your educational or professional goals, or how your background or activities will contribute to our community.
Letters of Recommendation: Three required
TOEFL: (If English not first language) Minimum 80, ideally 100
GRE: Not required!
A score of 80 is the minimum that will be considered by Georgetown University; the Department of Biology prefers a score of 100 or better.
Applicants are strongly encouraged to review the research programs of individual faculty, searching either by either name or by research area.  Please contact faculty members directly regarding mutual research interests and the possibility of doing graduate research in their labs. The fit of an applicant with existing research programs plays a critical role in admissions decisions and how you see this happening should be addressed in your essay.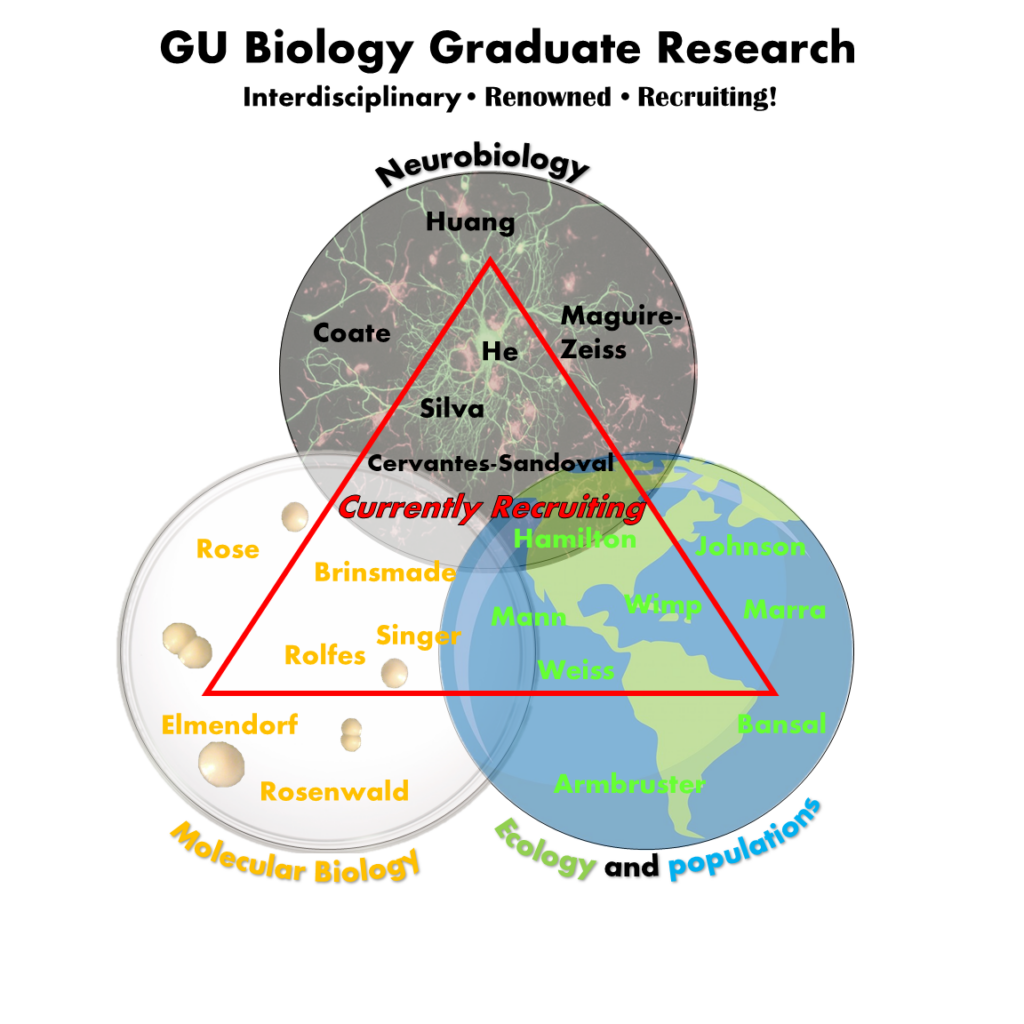 Answers to some Frequently-Asked-Questions (FAQ) can be found here.
Georgetown University admits qualified students of any age, sex, race, religion, color, national or ethnic origin to all rights, privileges, programs, and activities it generally accords or makes available to students. It does not discriminate on the basis of age, sex, race, handicap, color, national or ethnic origin in administration of its educational policies, admissions policies, scholarship and loan programs, and athletic and other University-administered programs. Inquiries regarding Affirmative Action/Equal Opportunity may be addressed to Director, Affirmative Action Programs. Georgetown University is an Affirmative Action/Equal Opportunity Employer.
Admissions to the M.S. program are currently suspended pending program review.