Georgetown Biology students present at the 2022 Undergraduate Research Conference!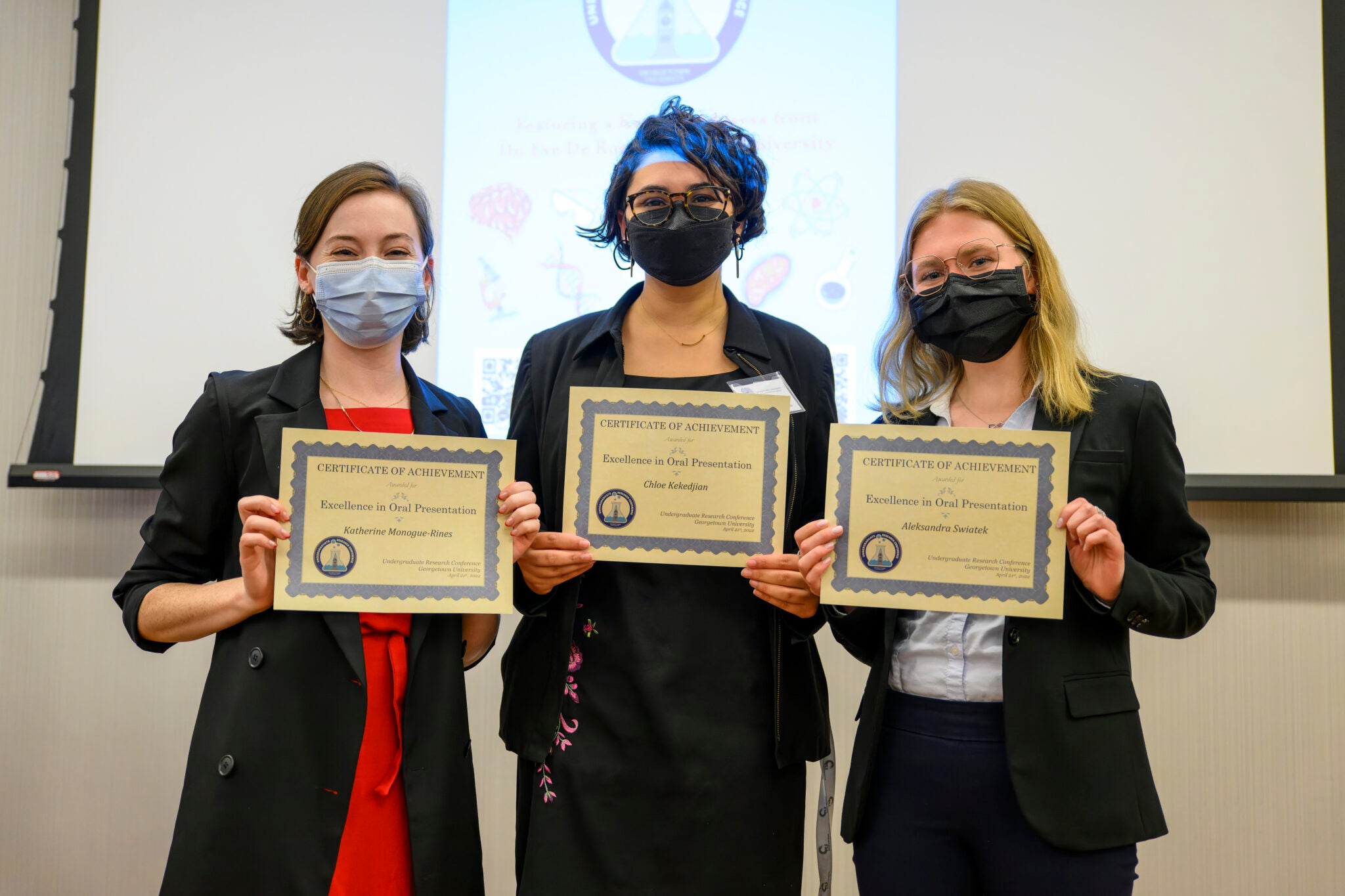 On Thursday, April 21st, the School of Nursing & Health Studies hosted the 2022 Undergraduate Research Conference (URC), featuring 60 undergraduates in the College and NHS.  Alongside two sessions of poster presentations, the conference was led by a keynote presentation from Dr. Eve De Rosa of Cornell University. A renowned psychologist and neuroscientist, Dr. De Rosa presented her cross-species research into the effects of age and acetylcholine on learning. Then, three students were selected to give their own oral presentations. Ola Swiatek (NHS '23) presented her work on the pedunculopontine nucleus (PPN) of rat brains, Katherine Monogue-Rines (NHS '22) outlined the results of a peer-mentorship program for BPN students, and Chloe Kekedjian (COL '22) analyzed the chemistry of novel MRI contrast agents from her lab. After a full day of learning about research, the best presentations were recognized in an awards ceremony!
Kekedjian was selected for the Best Oral Presentation Award, while Swiatek received the Best Poster Presentation Award. Furthermore, 6 students were recognized for their poster presentations, including three students in our department: Finn Thompson, a senior in the Rolfes Lab studying Biology and Computer Science, and Candice Powers, a senior in the Mann Lab studying Environmental Biology, were awarded for Excellence in Poster Presentation. Roma Dhingra, a sophomore Biology major who researches in the Reed Lab at the University of Pittsburgh, was recognized as the Rising Researcher of the conference! We're so proud of all the students in the Department who presented their work.