Graduate Research Seminars 2014/2015
Graduate Research Seminars and Graduate Development Workshops
Fridays, 3:30-4:45 pm

The Department invites Graduate students to present their research on every Friday throughout the academic year. The seminars are followed by a Q&A session. 



Fall 2014
Sept. 12, 2014
Dr. Steven Singer
Lessons from Animal Models

Sept. 19, 2014
Jenny Maloney
Host responses to Giardia infections


Sept. 26, 2014
Rick Kempinski from the AAAS Science & Technology Fellowship Program
Graduate Development Workshop: Applying Science to Society: AAAS S&T Policy Fellowships-careers in government and policy


Oct. 3, 2014
Graduate Development Workshop: Poster and Presentation Workshop
Hosted by: Elena Silva

Oct. 17, 2014
Kristen Mueller, senior editor of the journal Science
Graduate Development Workshop: Scientific Publishing from the Inside Out
Hosted by: Elena Silva


Oct. 24, 2014
Brian Haugen, Health Science Policy Analyst
National Institutes of Health Graduate Development Workshop: Science Policy and Related Careers at the National Institutes of Health
Hosted by: Shaun Brinsmade
Oct. 31, 2014
Shu Yang
Detecting the Function of the Small GTPase Arl1 (Arf-Like) in Autophagy

Nov. 7, 2014
Carrie Leonard
Distinct Roles for EPHA7 Splice Variants in Neuronal Maturation

Nov. 14, 2014
Elizabeth Steidle
SIW14, A Novel IP7 Phosphatase Involved in the Stress Response from Saccharomyces Cerevisiae

Nov. 21, 2014
Trey Picou
The Hydrodynamic Model of Giardia lamblia Attachment

Dec. 5, 2014
Xin Huang
Transcriptome assembly strategies for non-model organisms

Spring 2015
Jan. 15, 2015
Dr. Erik Aschehoug
North Carolina State University
Biodiversity, species interactions, and plant community structure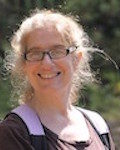 Jan. 22, 2015
Dr. Leslie Ries
University of Maryland 
Big science for little insects
Jan. 29, 2015
Dr. Haldre Rogers
Rice University 
What is the fate of a silent forest? The importance of avian pollination, seed dispersal, and predation in plant communities
Feb. 5, 2015
Dr. Jesse Lasky
Columbia University 
Community demography reveals drivers of diversity and ecosystem function
Feb. 12, 2015
Dr. Stephen Hovick
Ohio State University 
Functional trait variation and invasion success in plant communities
Feb. 19, 2015
Dr. Matthew Helmus
VU University Amsterdam 
Biodiversity Science in the Anthropocene
Mar. 19, 2015
Ian Carroll, Postdoctoral Fellow
Georgetown University
Does livestock market self-reporting fill the data gap on potentially disease transmitting cattle shipments?
Apr. 2, 2015
Rachel Horak, Postdoctoral Education Fellow
American Society for Microbiology
Using biogeochemistry, microbial physiology, and the "omics" to understand the changing nitrogen cycle of the Pacific Ocean
Apr. 9, 2015
Kathleen Maguire-Zeiss
Georgetown University
Neurodegenerative Disorders: The Role of Microglia and Astrocytes